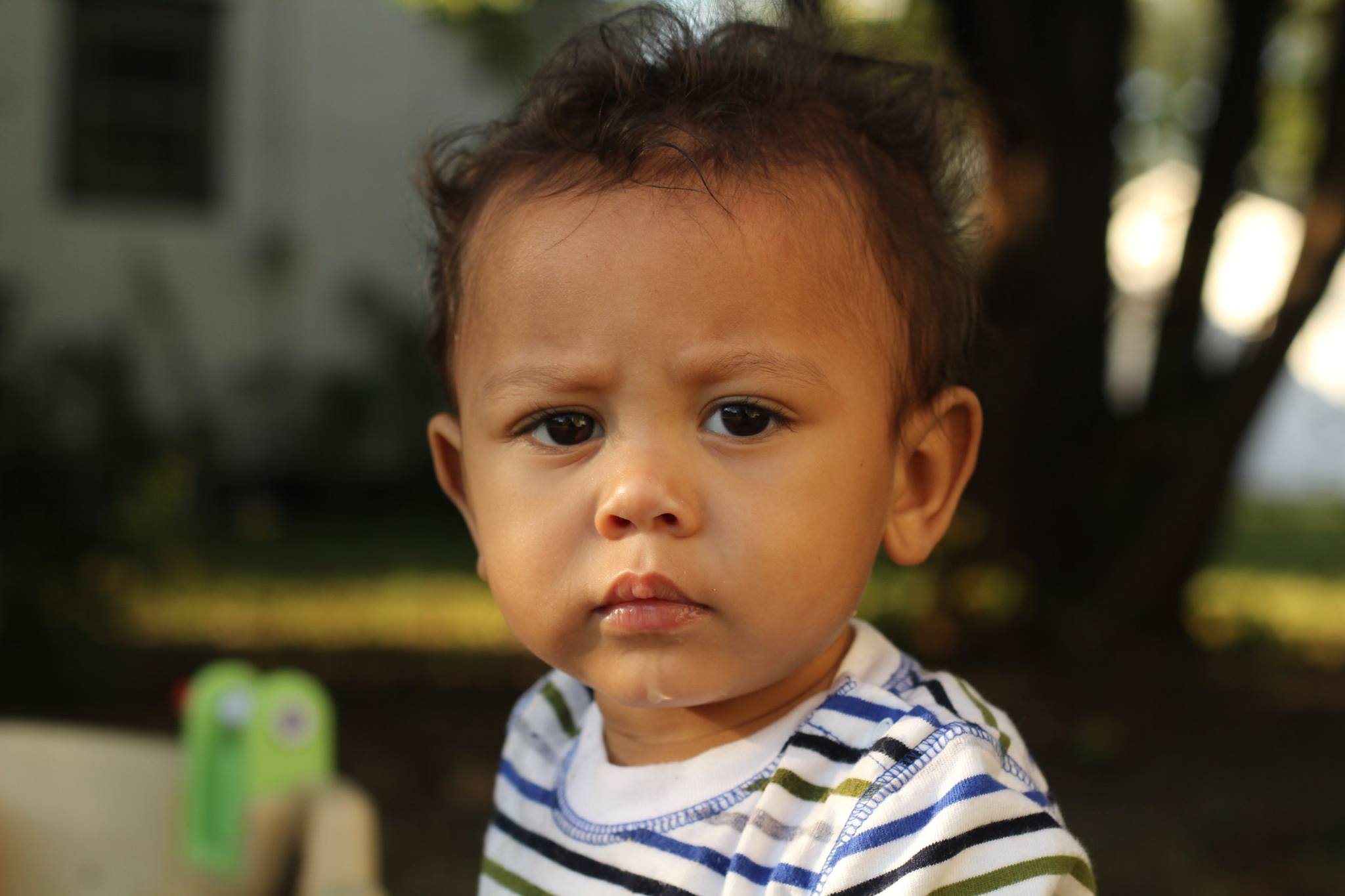 Hello all!
 –
I just was contacted by a family in Cedar Rapids, Iowa… a single mama who has 4 kids at home (ages 11 months, 3 years, 12 years and 17 years.)
 –
Her baby (pictured here) tested as high as a Blood Lead Level (BLL) 40 this past month. The CDC officially considers a child poisoned with a BLL of 5 (but also readily concedes that there is
no
"safe" level of lead in a child's blood). Long term negative health impairments resulting from even low level exposure (
as low as a BLL 2.0 and lower
) have been well studied and documented.
 –
In the case of this little boy, the local health department came in and did an inspection of their home and found lead hazards everywhere and then (after they completed their inspection) told his mother that she could move back in with her children — "as long as she cleaned really well"!!!! For those not familiar with the issue of childhood lead poisoning, this myth of significant hazard reduction from cleaning alone was officially debunked many years ago, so this is completely ridiculous advice in 2017! In a "lead-pit" of a house, it is impossible for a homeowner or tenant to clean well enough to protect a child from lead dust hazards — no matter how often you clean, nor how much "intention", effort, or time you invest — especially when that child is a mobile toddler and you have other children to take care of! [The threshold for "hazardous" is literally well below visibility; it's measured in uG/sq.ft. (micrograms per square foot)!]
 –
It also appears that the landlord did not have the tenant (mom) sign a lead hazard disclosure form upon signing the lease four years ago. The landlord owns multiple units in Cedar Rapids and should be aware of the requirement of having his tenants sign this disclosure form. [The potential EPA fine for this violation (neglecting to have a tenant sign the disclosure) is $10,000 per incident, and an investigation into this one potential violation can open the landlord up to an investigation of all of his tenant contracts for all of his properties over the past 7 years, with a potential fine of $10,000 each  – for each additional violation found.]
 –
She needs immediate relocation help — ideally in the form of assistance from a public agency (or a nonprofit?) (or an individual?) or granting Foundation that could pay for a temporary hotel stay (a suite to accommodate the mama and her four children) from now through November 1st, to give her a chance to collect her thoughts and find a new lead-safe place to live (and perhaps a competent attorney that has something better to say than "wait six months".)
–
We located a suite for $96.25 a night near her home (so she can still take her children to school, doctors' appointments, etc.) so for the next 20 nights she would need about $1,925 for temporary emergency housing.
 –
Does anyone have any Cedar Rapids (or Iowa) agency connections that could help her?
 –
I am shocked and appalled that the Health Department recommendation was that she "move back into the home" with her baby, given both the baby's incredibly high BLL and the confirmation of lead hazards throughout the home!
 –
Here is her e-mail to me this afternoon (we have mostly been communicating via Facebook):
 –
My 11 month old son was found to have elevated lead levels almost 4 weeks ago. First read 31, 2nd read 40, left the home and third read was 27. 
All done through his vein.  I was tested and my 3 year old and ours were less then 2 is what they said.  I'm currently renting.  Health department said for me to go back in the home even though no repairs have been done. Lead was found in all the windows,  front porch,  stairway wall, cupboards, door and frame to one room and heat vents. Waiting to hear back from the Dr.  I'm staying at hotel till I find other housing.  I did contact a personal injury lawyer and he just said wait 6 months and reevaluate damages.  My son was having balance issues, mouth sores,  anemia, diarrhea and fussy. 
 –
 –
 –
Thank you for any leads to help this mama. If you have a source of help for her, I will connect you directly. We are also working on setting up a GoFundMe to help with her family's relocation costs.
–